We wish you wellness and safety during this national health crisis. Konvergent remains fully operational and poised to support your telehealth programs.
ADD, CREATE, TRACK.
A new way of sharing and managing referrals for health professionals. Welcome to Konvergent.
What is Konvergent?
Designed for mental health and medical practice, Konvergent is a HIPAA-compliant referral platform designed to help health professionals manage the referral process in one place for optimized patient referral.

With Konvergent, you easily ADD detailed referral profiles to your cloud database, quickly CREATE and share customized/targeted referral lists for your patients, and TRACK and collaborate patient access. Then relax with peace of mind for closing the referral loop.

See how we can streamline your workflow and enhance your risk management within mental health counseling centers, integrated health centers, clinics, or even solo practice.
ADD PROVIDERS TO YOUR DATABASE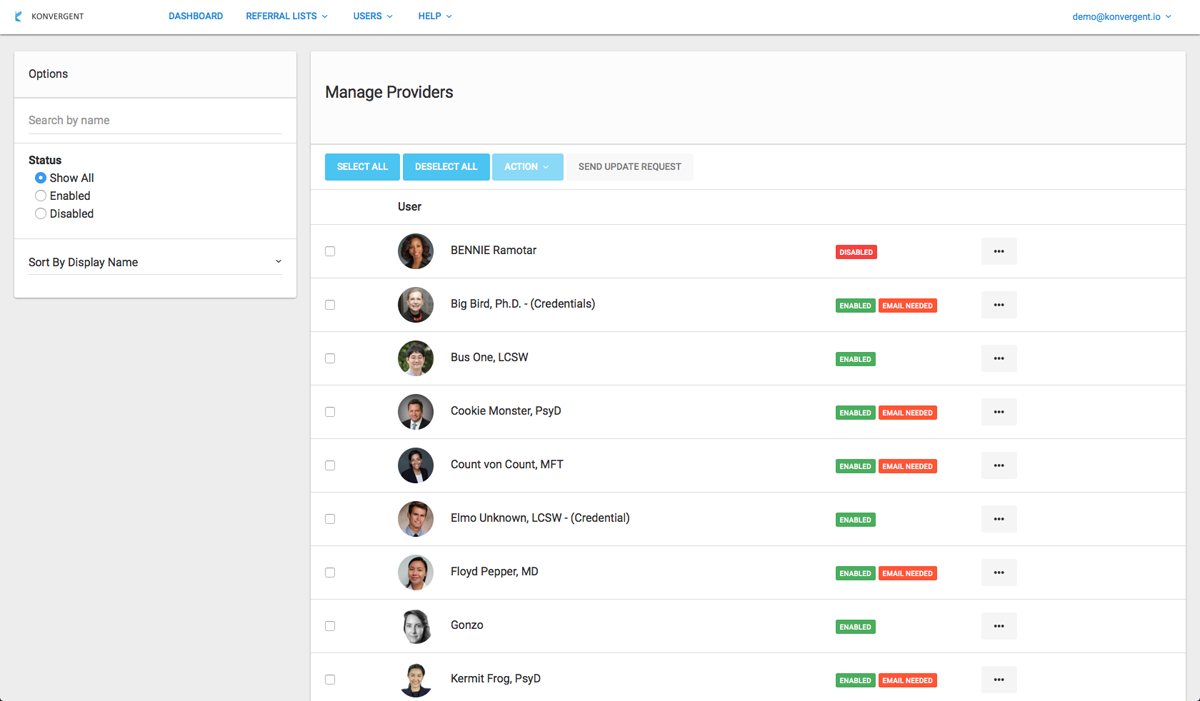 Add providers to your private online database and begin creating referral lists in minutes.

Your database can be populated with a wealth of provider attributes such as specialties, insurances accepted, preferred languages and more.

Choose to have the external providers update their information themselves, so you'll always know who's current accepting new patients in the community in real-time.
CREATE AND SHARE REFERRAL LISTS
Use our simplified user interface to search your database and easily drag-n-drop your entries to create and save customized referral lists. Referral lists can be archived for later use.

Konvergent give you different ways to disseminate your referral lists. Simply print, save, copy, email, secure message, or text your custom referral lists. You also have the option of allowing the public to search your database of verified providers and create their own referral lists.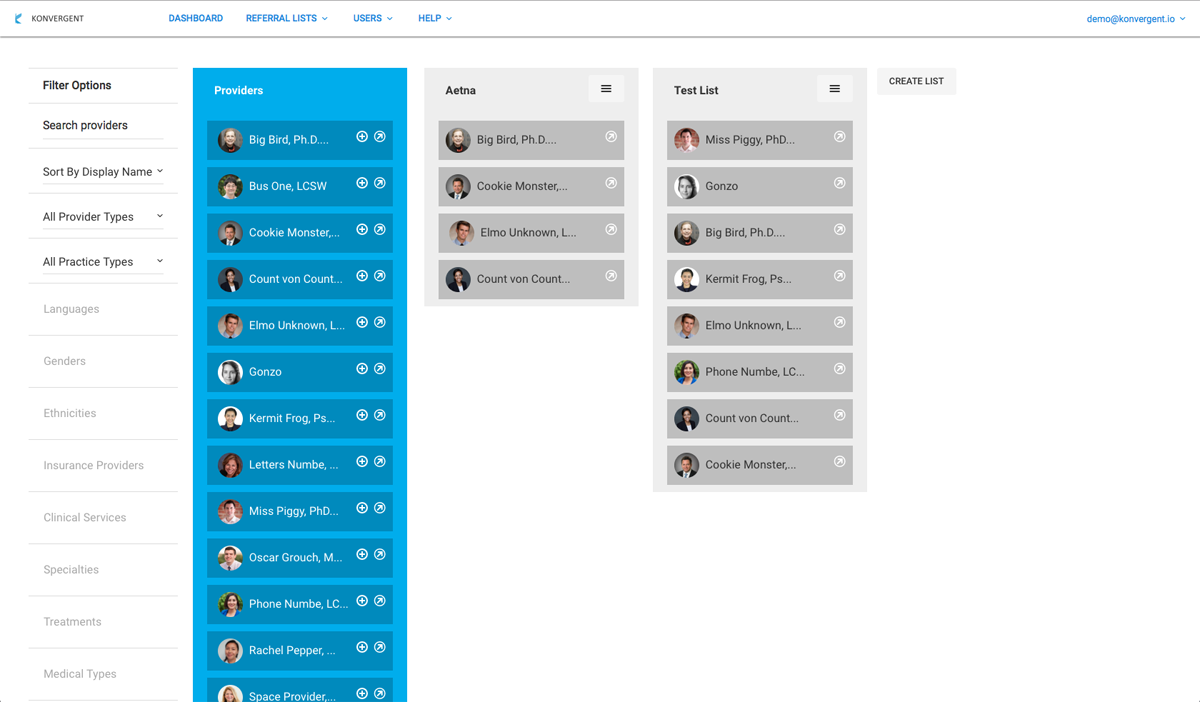 TRACK AND COLLABORATE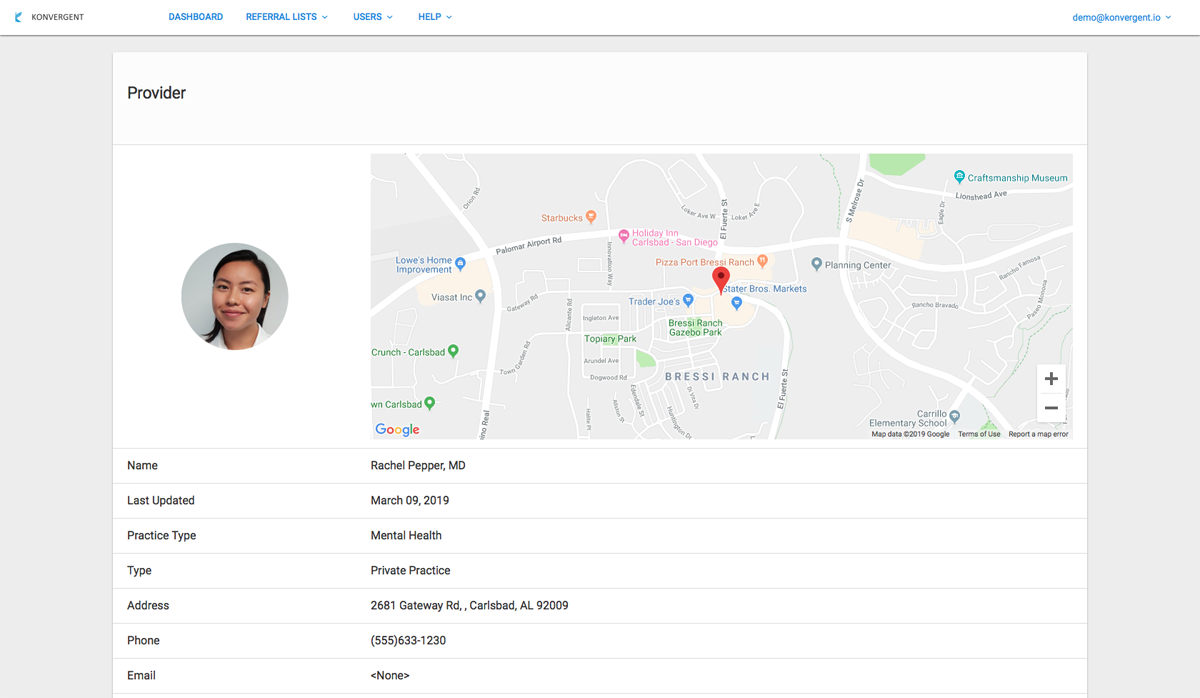 With the Enterprise version of Konvergent, send HIPAA secure messages (with attachments) to both clients and external providers. Referrals are automatically and electronically tracked with access confirmation results right on your Dashboard.
Now you'll know directly from clients and external providers whether a successful connection was made without any effort on your part. Konvergent will alert you when more case management intervention is needed. Click
here
to learn more about Enterprise features.
How does Konvergent work?
CUSTOMER TESTIMONIALS
Konvergent is an excellent and affordable resource database for our integrated wellness center! Their customer service and tech support are responsive, prompt, and have met all of our requests to customize the database to meet our needs...We highly recommend this service to others looking for an efficient way to manage the many community providers serving as a great resource.

Nicole Musni, LCPC, Director of Counseling at the Dyson Wellness Center
Our Konvergent database of agencies and individual practitioners has made the process of finding appropriate referrals for clients that much easier. In particular, the ability to create and maintain multiple referral lists, the email and texting functions, the searching parameters, and the intuitive UI have made my work in connecting students exponentially more efficient and accurate...I can't speak highly enough about the functionality of the app.

Dr. Michael Juan, SDSU Counseling and Psychological Services